Newsletter
Crypto Quick Take, Immigration & Inflation, Thanksgiving plus SB Recommends!
Jay Powell Reappointed as Fed Chair
This week President Joe Biden declared that he would renominate Jerome Powell as chairman of the US Federal Reserve at the expiry of his current term in February. After what has been quite a drawn-out selection process, it was encouraging that Mr Biden at last made the obvious choice, opting for a steady pair of hands.
Many investors had hoped that Powell, who was nominated to the chair by President Trump in 2017, would be renominated by Biden for another four-year stint. Given the delicate task ahead for the Fed in tapering their bond-buying program and starting to lift rates, an experienced voice is preferred to manage the delicate process of guiding market expectations as to their intended course of actions.
Powell's current term has been positive for markets, with the S&P gaining almost 70% since his appointment in February 2018, and hitting a series of new records, helped enormously by emergency measures the Fed launched in response to the coronavirus pandemic. Over his term, the Fed and many central banks globally appeared to take on a much greater mandate for ensuring market stability.
The challenge from here will be, how the US Federal Reserve and other central banks start to wean the patient from the drugs. Plotting a path back to normalised monetary policy settings, while minimising market fallout will not be easy.
IFA Self-Licenced Firm of the Year
We were very excited to have been awarded 'Self-Licensed Firm of the Year' at last week's ifa (Independent Financial Adviser) Excellence Awards. Awards are about allowing us to benchmark our innovation, our service, and our performance against the best in our profession and it was particularly pleasing to come out on top against a very strong field. A huge thank you to all our team at Stanford Brown for their enormous contribution to this achievement.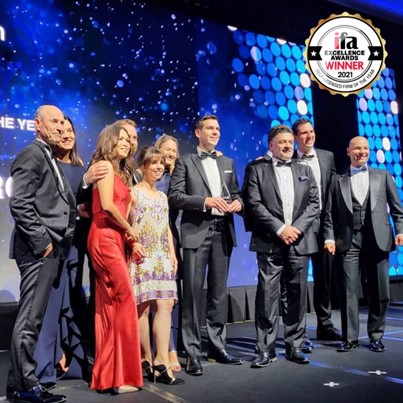 November Market Wrap
In November, equity markets in the US and Australia have continued to climb. With three trading days remaining the S&P 500 is up 2.2% and the All Ords are up 1.6%. While the end of month numbers seem to represent a steady climb, it has been a bit of a bumpy ride during the month thanks to a variety of issues making markets nervous.
Firstly, rising coronavirus case numbers in Europe and the reintroduction of lockdowns overseas, as Australia begins to open its borders has been a reason for concern. US CPI numbers came out mid-month and the rise of 6.2% was the largest CPI increase in 30 years. This of course made markets nervous about the central banks need to raise rates in order to slow down inflation. This was balanced out by some good news, being that Jerome Powell will get another term at the Fed, US consumer spending has been increasing above expectations, and the RBA's Phillip Lowe indicated that there won't be any rate hikes in 2022.
SB Quick Take – Crypto Fad?
In our latest SB Quick Take, we take on the hot topic of Cryptocurrency. This topic has hit the headlines in recent days after Senator Jane Hume, while addressing the AFR Super & Wealth Summit on Monday, said both industry and government leaders need to acknowledge that crypto is "not a fad", urging policymakers to tread carefully but not fearfully.
The Senator's address arrived only days after Tony Richards, the Reserve Bank of Australia's outgoing head of payments policy, delivered his final declaration at the central bank, cautioning economists that the widespread uptake of crypto is a "fad" destined to fade away. So, is cryptocurrency a fad? Enjoy our Quick Take.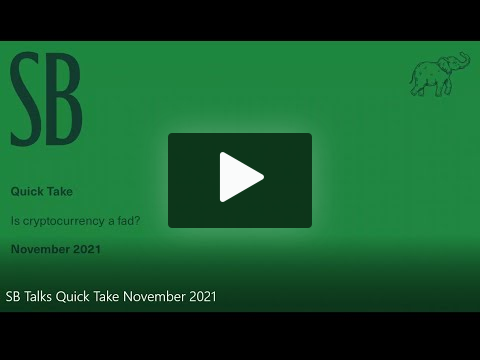 Immigration & Inflation
Migration and particularly the welcoming of skilled migrants, has been a central cog in the Australian economic success model. It has allowed the Lucky Country to fulfil the need for everything from fruit pickers to doctors and engineers, plus even the occasional Irish CEO.
Between 2000 and 2019, Australia experienced the fastest population growth among large developed markets. And for the last 10 years, population growth has been the main source of growth for Australia's economy from a supply-side perspective.
So, what happens when an economic model built on migration must deal with a sudden halt in the flow. The chart above tells a clear story of the dramatic cessation in net overseas migration due to the pandemic and the chart below sets out very clearly what this has done for job vacancies.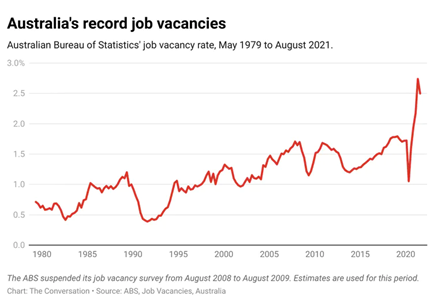 Without a rapid return to immigration, Australia will likely run into capacity constraints in the coming years.
This could likely lead to wage pressure over the next 24 months. The Reserve Bank published updated quarterly forecasts that showed wage growth could hit 3 per cent by the end of 2023 — it would be the fastest rate of growth in Australian wages for a decade. Typically, businesses will pass through higher labour costs into prices to preserve profit margins in an environment of strong demand. Then we certainly would have inflation. Only time will tell how quickly the migration tap can be turned back on in a world still significantly disjointed by the pandemic.
Largest US IPO since Facebook
The Jeff Bezos-backed electric carmaker Rivian arrived with a bang on the Nasdaq this month in its initial public offering.
Rivian is an American electric vehicle automaker and automotive technology company founded in 2009. They are building an electric SUV and pickup truck on a platform that can support future vehicles or be adopted by other companies.
Rivian offered 153 million shares at US$78 per share, a figure higher than initially expected, making their IPO the largest globally this year, and the estimated US$11.9 billion raised makes it the largest IPO for an American company since Facebook.
While that price set Rivian's valuation at around US$70 billion, the carmaker's market capitalisation surged above $100 billion, after the stock started trading above US$120 a share, even getting as high as US$170 before settling back into a lower range in recent days. What is probably most remarkable is that Rivian only recently began deliveries of its first production vehicle, the R1T, beating to market the much-hyped Tesla Cybertruck.
Rivian is also appealing to commercial clients, including its own influential backers. After participating in two funding rounds for the start-up, Amazon last year committed to buying 100,000 electric delivery vehicles from Rivian by 2030.
Things are hotting up in the EV market with Apple reportedly accelerating its plans to enter the car market with ambitions to launch a self-driving electric vehicle in 2025. This should certainly be a very interesting space over the years ahead.
Thanksgiving 400th Anniversary
This year marks the 400th anniversary of the 1621 feast, which found the Pilgrims and the Wampanoag cementing a newly established alliance.
Four hundred years later, the first Thanksgiving is undergoing a reassessment. Historic sites in the US are telling a more nuanced story about the origins of the holiday—one that goes far beyond the lasting legend of smiling Pilgrims and Wampanoag people happily enjoying a big meal together.
Instead of perpetuating this myth, institutions like Plymouth's Pilgrim Hall Museum and Plimoth Patuxet Museums are acknowledging just how little information about the gathering survives, in addition to exploring the layered, damaging ramifications of the feast. The new dialogue more carefully examines the complicated relationship between early English settlers and the Wampanoag people. The conversation offers an interesting perspective on the first Thanksgiving and events in the months that followed.
Vaccine Rollout – Via Drone
It is very much a two-speed vaccine rollout across the world. While many developed nations are rapidly deploying booster shots in efforts to keep the virus at bay during the Northern Hemisphere winter, others in the developing world are much less fortunate.
Faced with a variety of economic and logistical challenges in many parts of the world innovative solutions have been needed to tackle the obstacles.
Pfizer and BioNTech have collaborated with logistics company Zipline to create an end-to-end vaccine delivery solution to allow for the distribution of 50,000 doses in Ghana while maintaining the ultra-cold conditions the vaccines required.
They also tested if drone deliveries were smooth enough for the fragile vials. Interestingly the shock and vibration profiles were found to be lower via drone than via truck, opening the door for a potential new solution to this multi-layered challenge.
For those of you interested in keeping track of the global vaccine roll-out, we again share the Financial Times rolling tracker.
SB Recommends
Following on from the fantastic contribution to this feature by SB Adviser Kirsten Lynne last month, today we introduce SB Head of Advice Operations Lori Chapple to share her recommendations for the festive season ahead. Enjoy.